We had an early morning start on Day 2 of the One Young World Summit and what struck me are two things: First, The Session with Senator Murray Sinclair on Aboriginal Canada: The Peace and Reconciliation Process where his 6 young speakers were from the tribes of the First Nations, Metis and Inuit. Second was that of the External Breakout Session that I attended which is Stories of Refuge & Welcome: How Canada is Responding to the Global Refugee Crisis.
Canada became the first country to extend constitutional protection to indigenous peoples thirty years ago. Despite considering itself at the vanguard of rights of Aboriginals, this perception is far from reality. Canada has failed its Aboriginal peoples, leaving both sides ensnared in a broken relationship. This led to teenagers committing suicide because they felt that they're no good to society and that majority of them are discriminated and humiliated publicly. According to Al Jazeera's report, Aboriginals in Canada are seven times more likely to be murdered and twice as likely to be the victim of violent crime. Substance abuse is rampant and children are eight times more likely to be taken into government care. Indigenous peoples represent 23 percent and 33 percent of the inmates in men and women's prison facilities, respectively, despite making up only three percent of Canada's population. 
I was moved by the speech of Senator Murray Sinclair and his speakers from the different aboriginal tribes, where he stresses the importance and understanding and preserving of Canada's aboriginal history.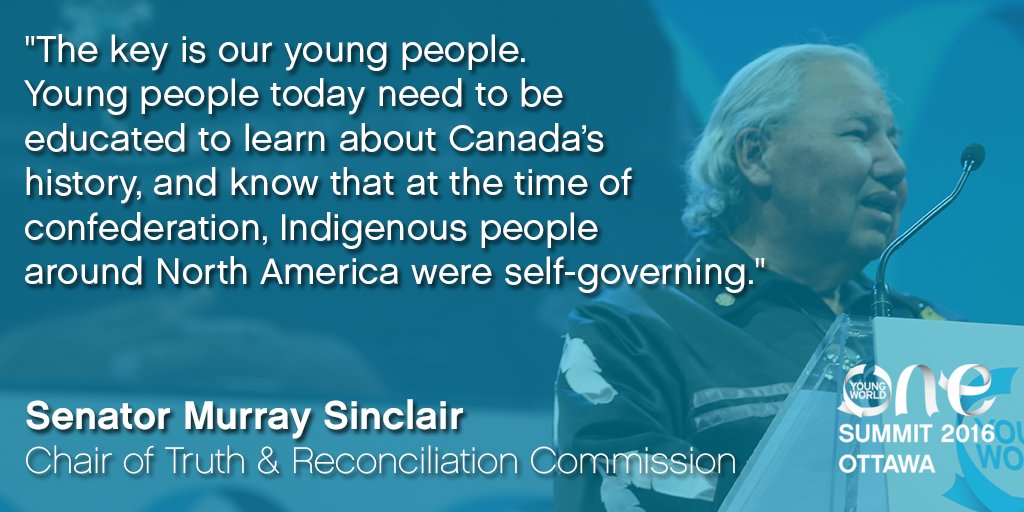 I also had the privilege to attend a very important  external breakout session during the summit as I wanted to find out how Canada is addressing the Global Refugee Crisis through its various programs.
At St. Jones' Parish, I met volunteers from Refugee 613 who are a coalition of citizens, settlement agencies, sponsorship groups and community partners working to provide refugees with the building blocks of successful integration: a warm welcome and access to key services, opportunities and support. As a non-partisan, grassroots effort, we aim to build on Ottawa's settlement services by providing our partners and the public with information, connection and inspiration.
It was an emotional session having to meet asylum seekers who were recently granted refugee status by the Canadian government. Knowing how well and able they are in their own country as professionals until the civil war broke out. They fled to seek greener pastures and safe haven yet it doesn't end there as they now battle their way up to fight discrimination and inequality in the country that have adopted them.
There are more and more people fleeing their homes to seek refuge lately, and this makes me think of a major project that Western Union can initiate to have a big impact in addressing this humanitarian issue. The below items are what I can think of to be the top most needs of refugees the moment they arrive in their new homes.
Food & Shelter
Access to Education
Assimilation
Re entry into the Workforce
OneYoungWU Team will make it happen!